Contact Your Elected Officials
By adding your voice to ours, you help to strengthen DC's voice for children and youth.
Below, are the names and contact information of the Mayor and the DC Council. Make sure they hear from you about laws and budget priorities that ensure all DC children and youth grow up safe, resilient, powerful, and heard. No exceptions.
Mayor of the District of Columbia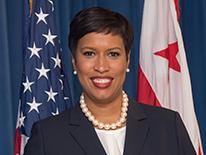 Mayor Muriel Bowser  |  eom@dc.gov  |  202-727-2643
Chairman
Chairman Phil Mendelson  |  pmendelson@dccouncil.us  |  202-724-8032
At-Large
Councilmember Anita Bonds  |  abonds@dccouncil.us  |  202-724-8064
At-Large
Councilmember David Grosso  |  dgrosso@dccouncil.us  |  202-724-8105
At-Large
Councilmember Elissa Silverman  |  esilverman@dccouncil.us  |  202-724-7772
At-Large
Councilmember Robert C. White, Jr.  |  rwhite@dccouncil.us  |  202-724-8174
Ward 1
Councilmember Brianne K. Nadeau  |  bnadeau@dccouncil.us  |  202-724-8181
Ward 2
Councilmember Brooke Pinto  |  bpinto@dccouncil.us  |  (202) 724-8058
Ward 3
Councilmember Mary M. Cheh  |  mcheh@dccouncil.us  |  202-724-8062
Ward 4
Councilmember Brandon T. Todd  |  btodd@dccouncil.us  |  202-724-8052
Ward 5
Councilmember Kenyan R. McDuffie  |  kmcduffie@dccouncil.us  |  202-724-8028
Ward 6
Councilmember Charles Allen  |  callen@dccouncil.us  |  202-724-8072
Ward 7
Councilmember Vincent C. Gray  |  vgray@dccouncil.us  |  202-724-8068
Ward 8
Councilmember Trayon White, Sr.  |  twhite@dccouncil.us  |  202-724-8045